News for October 2023:
We'll meet by Zoom this time on Tuesday, November 28th, at the usual 7:30 PM CEST. For those outside Europe: that equates to 1:30 PM on the East Coast of the U.S. Anyone interested can drop in. The link is accessible by email from the group list.
If you're on the mailing list, you should get a link and further details. See bottom-right, below, for how to join either of our two very-low-traffic mailing lists. Contact me directly if desired here, including for meeting information.
The group has a new private area to talk and interact online. It's at the equally new Discourse for Expat Writers community launched in April 2022. Anyone may join the public side of the ongoing discussion site for free. Take your writing to the next level!
Charter member Russ Hodge has written up a sweet memory of his first encounter with our group's founder, Raymond Hansen, in the early 1990s. Click to read that bit of personal history!
---
See here for a statement about privacy with regard to your interaction with us.
See here to see who's responsible for the contents on this page.
---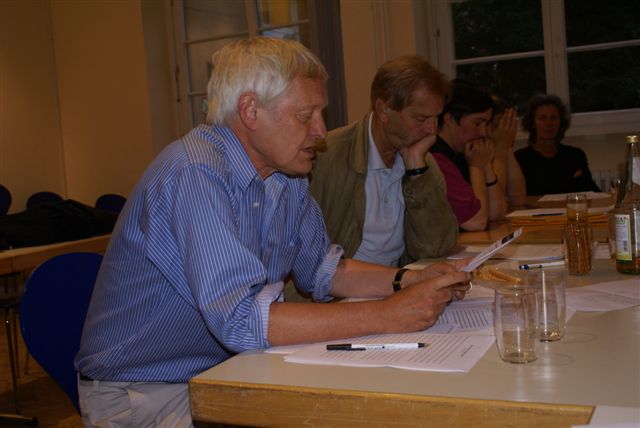 We are also pleased to announce how proud we of our former member, Joachim Frank, on whom has just been conferred the Nobel Prize in Chemistry! (If only it had been literature...) Here he is in a snapshot taken ten years ago when Joachim visited us and participated in our VHS summer reading.)
---
Snapshots are available here from the 2007 VHS summer reading. Other photo collections from past meetings are also available here.
---
Announced workshop meetings are usually held on Tuesdays at 7:30 p.m. at the Deutsch-Amerikanisches Institut (DAI; a.k.a. "Amerika-Haus"), Sofienstraße 12, near Bismarckplatz/Adenauerplatz, 69115 Heidelberg. Further directions are to be found on the DAI site. Look for us customarily upstairs – take the elevator to "2. Obergeschoss." Enduring appreciation goes to DAI Director Jakob Köllhofer for providing the meeting space and moral support.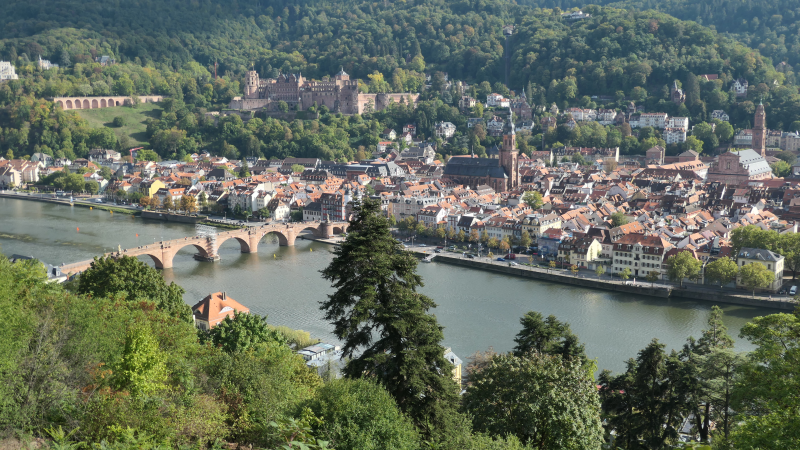 Good-bye to a Friend
Bill Kerr, an avid contributing member since 1999, passed away on January 31st, 2023, after failing health. We are immensely saddened by the loss.
You may read a detailed meditation on his life here. Notes of sympathy to the hwg by email are appreciated.
A short-story writing competition honoring him is in the works, so you may wish to check back here for further details soon.
That's Bill prominently pictured in the photo of the group in the next panel. He's in the foreground on the left side of the table. The photo was taken at the Deutsch-Amerikanisches Haus in Heidelberg on 24 October 2017.
Eight more photos with Bill are here.
Published!
3/2022: Anita Namyslo has published her first poetry collection, Time Wheeled On, to great excitement by all who know her work.
Summer 2021: Charter member Bill Furley has published a wonderful, high-quality book of his poetry. It's a true delight, and one we've all waited for. Click to preview it on Amazon for a look inside and to order. Highly recommended; Bill is a fine, fine poet.
Update, 2/2022: Bill's poetry book has been accepted into the collection of the UK's National Poetry Library, a tremendous affirmation of the quality of the work. Click here to see the acceptance notice. Congratulations, Bill!
---
The Heidelberg Writers Group, now in its 28th year (founded in 1994), comprises interested English-language writers and poets (published or not-yet-published) in or near Heidelberg or with ties to the region. The group meets irregularly online during the COVID-19 pandemic. There are no dues. Members share current works with the goal of fostering growth and advancing their craft. Guests are welcome by arrangement. Periodically the group presents members' work at public readings and events. A print review was published in the past; if thee is member interest, we will consider a web journal.
| | |
| --- | --- |
| To learn the answer to why "bluebottle fly?" click here or on the fly below. | FAQ on why the HWG mailing list directs replies to the sender rather than the list. |
---
Joining is simple: click just below to attend meetings and events.
---
Click here to join the official HWG mailing list if you have an interest in original English-language prose, poetry, or lyric.
Or click here to join the "friends" list: what we're up to, for those who want to listen in.